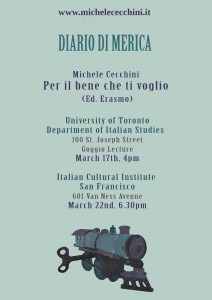 The novel Per il bene che ti voglio is a story about italian immigration to the States during the 30's.
Now in its fourth printing, the novel speaks of the bittersweet experiences of the protagonist Antonio Bevilacqua as he emigrates from Lucca, Italy to San Francisco.
Some parts of the novel are written in ITALIESE: this is a hybrid of English and Italian. Italian immigrants adapted English words and phrases into their spoken Italian with results both curious and amusing. The book includes a dictionary which gives definitions of Italiese words used.